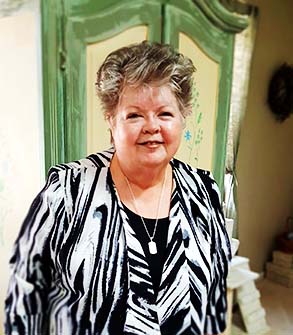 Nancy Arant Williams
Email
Favorite Quote:

"When the heart speaks, the mind finds it indecent to object." -- Milan Kundera
1 Corinthians 2:9 --

"No eye has seen, no ear has heard, no mind has conceived what God has prepared for those who love him.
Newest Releases:
Last Day's Keys

Last Day's Keys


Professional Christian Editor:
Nancy has fourteen years' experience editing freelance, on a wide variety of projects. She edits both fiction and non-fiction pieces, including books, articles, website and brochure content, doing her best to put the author's best foot forward. Several of her full-length book edits have even won awards. As the author of over thirty books, she understands the challenge of entrusting your book, otherwise known as your baby, into the care of an editor. Her goal is to make every book flow beautifuly, 'singing' a symphony of praise to glorify God. To that end, she will make each book agree with Scripture, because only the truth of God's Word has the ability to change lives, which should be the purpose of every book. Please don't waste her time or your own if that's not your goal as well.

Her goal is to get into the author's head, to grasp the point he is trying to make, while preserving the author's voice--with the goal of holding the reader's attention, clarifying confusing thoughts and making the text and dialogue flow beautifully.

She offers the following editing services: (price breaks are available to those with manuscripts over 100,000 words.)

1. Proofreading, which includes: Checking and correcting punctuation, spelling, usage, and grammar. $4 per 250-word page.

2. Manuscript evaluation: Making suggestions for changes that will make a book marketable, looking at flow, characterization, plotting, checking for readability, timeline issues, head-hopping, and loose ends. Flat fee: $175 - $350 depending on the length.

3. Copy edit: Making changes and doing occasional rewriting to improve the overall readability and marketability of the manuscript. $5 per 250-word page.

4. Developmental edit: Doing significant rewriting, correcting major problems. $6 per 250-word page.

5. Ghost-writing: Taking notes, diaries or a very rough manuscript and transforming into a beautiful, professional book. $10 per 250-word page, or possibly a per-book flat fee for very long manuscripts.

NOTE: It will be necessary to look at the entire manuscript in order to determine the editing level required.

Satisfied Client Testamonies:

"Let me just say how thrilled I am with the outcome of my manuscript. Nancy certainly has a special talent for writing as well as editing. It definitely takes courage to share one's story, especially a life's journey. With Nancy as my editor, I always felt secure. Gratefully, I can say I never once felt less than adequate working with Nancy. Her patience with me, a beginning writer was superb. She encouraged me through each step. Anytime she didn't understand a piece of my manuscript, she quickly picked up the phone to find out the details. And what's more she returned my completed manuscript back in what I consider "record time." It's true what I heard: Nancy does know how to make a manuscript sing!"

- Debbie Griffiths,
RNC, Little Lady, BIG DREAM

"I recently contracted Nancy Arant Williams to edit my book and I found her attention to detail and her vision exceptional. I am also very pleased with the professionalism and excellent quality of her work in making my manuscript sing. If you are seeking a conscientious and talented editor, I would highly recommend her services."

- Charles Maldon

"I contacted Nancy Arant Williams through the Christian Pen Writers Association to edit and proofread my manuscript. Upon signing our contract, I found her to be fair and diligent to the task of getting the job done. Nancy communicates very well, is very professional, and has gone beyond her duty in giving me good sound advice. She truly has made me and my manuscript 'sing'. All to the glory of the Lord."

- Kris Thayer

"I contacted Nancy Arant Williams through the Christian Pen Writers Website. From the initial contact to finished product Nancy was both professional and personal. She went above and beyond the call of duty to guide me, encourage me, and when necessary, prod me a bit. Her suggestions and corrections were on target and delivered honestly yet with grace. I know that my manuscript is much better now thanks to all of her hard work. God really used her to bless me."

- Lori A Gordon

"Thank you so much for your manuscript services. I want you to know how pleased I am with the editing of my book, A Pathway to Healing. I really appreciate your encouragement and enthusiasm for my work and how you were sensitive to keeping me informed about changes. The book was released several months ago, and I've had great compliments on it, but I know it's your editing that made it flow so beautifully. You definitely made my book sing, just as you promised."

- Linda Lufkin

"My book had been placed on a shelf and left for dead after many publisher rejections. One day, I searched the Web for a Christian editor, and God led me to Nancy Arant Williams. We talked for a while, so she could get a feel for my personality. She returned the finished manuscript within two weeks, and after reading it, I cried. Nancy had captured my heart cry, and turned it into a masterpiece! She truly was a godsend!"

- Nikki Shew
Author, "Soar With Me"

"If I didn't believe in miracles before meeting Nancy Arant Williams, I do now! Working on my first book, a biblically based technical guide for the worship arts community, Nancy dove in to help me achieve my deadline and also to make the book more than I ever imagined it could be. With outstanding writing and editorial skills, Nancy has the ability to not simply rewrite words but to make them flow beautifully. She captivates the reader with word pictures and draws from the author's own writing style to make it say exactly what the author intended. I am forever grateful to Nancy for not only improving my writing, but also for her tremendous encouragement working through the process of editing for my first time. I would highly recommend her to anyone requiring solid editorial and professional writing services. Thank you, Nancy, you are a blessing!"

- Lee J. Bloch
Author, "Worship from Backstage"

"If you need an editor who's professional, educated, understanding, prompt, sincere, and competent to make your book really sing--then hire Nancy Arant Williams. She delivered exactly what she promises on her website. She preserved my voice and made the text flow beautifully. To her I say, Thank you Nancy! You were an enormous encouragement to me!!!"

- Mike Trillo
Author of What Does God Really Want.

"You have been such a delight to work with. You provided me with excellent editorial service that has breathed life into my manuscript. You smoothed out the rough places and exactly captured my thoughts in ways I had only imagined. You truly work with knowledge and wisdom, and your talent speaks for itself. I pray that the Holy Spirit will continue to use you for His glory. It's wonderful to know there are exceptional editors like you, whom God is using to help bring manuscripts to life at a reasonable cost. Blessings on you!"

- Christine Bell
Author, If You Only Knew